ABLE Foundation, Inc.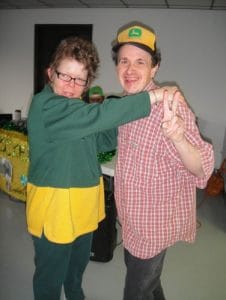 The ABLE Foundation, a 501 (c) 3 non-profit corporation, was established in 1993 to further the mission of ABLE and provide financial stability in uncertain times. Several fundraisers are held each year to provide programs, equipment, and opportunities to improve the quality of life for those supported by ABLE.
Mission: to increase public awareness of ABLE, provide opportunities for staff development and secure funds for programs, facilities and equipment that will improve the quality of life for individuals with developmental disabilities supported by ABLE.
Vision: that the needs of the people supported by ABLE will be met, that the quality of their lives will be improved and that ABLE employees will have opportunities for growth and development because of the work of the ABLE Foundation.
ABLE Foundation Annual Campaign
The ABLE Foundation's 2023 Annual Campaign is now underway.
If you wish to participate and lend your support but did not receive one of the annual campaign mailings, please contact Krista Coey Bernau at 507-895-8111 ext 1102 or kcoey@able-inc.org.
Buy Kwik Trip cards
You can support the ABLE Foundation and its mission every time you fill your vehicle with gasoline, just by purchasing Kwik Trip Gift Cards through the ABLE Foundation-Kwik Trip Scrip Gift Card Program.
You buy the gift cards, which are available at ABLE in $5, $10, $20 and $25 denominations, at face value, and a portion of your purchase remains with the ABLE Foundation.
Scrip Gift Cards can be used at the Kwik Trip pumps or for any in-store purchase, excluding money orders. There is no minimum purchase required.
To purchase Kwik Trip Scrip Gift Cards, contact Krista Coey Bernau at (507) 895-8111, ext 1102 or email kcoey@able-inc.org.
Make a Donation
You can help us create a brighter living experience for people with developmental disabilities!
Over the years, ABLE Foundation, Inc., has been sustained by a circle of financial supporters who care so much about their community that they give back some of what they reap. With increasing cuts in state and federal funding, it is becoming more important than ever before to expand our circle of support.
To make your tax-deductible donation, please make your check out to ABLE Foundation, Inc and send to:
ABLE Foundation
1700 Lancer Boulevard
La Crescent, MN 55947
Or donate online using the Donate button below
(PayPal account not required)...
If you are interested in other ways of making a donation to ABLE Foundation, Inc., such as donating appreciated securities or including ABLE Foundation in your estate plan, please call or email Krista Coey Bernau to set up an appointment at (507) 895-8111, Ext. 1102 or kcoey@able-inc.org.
Level Three: Direct Support Volunteer
Your Title Goes Here
Your content goes here. Edit or remove this text inline or in the module Content settings. You can also style every aspect of this content in the module Design settings and even apply custom CSS to this text in the module Advanced settings.
ABLE, Inc. Foundation Board of Directors
President
Peter Congdon
Vice President
Deanna Dorsch
Secretary / Treasurer
Sue Webb
Directors
Lynn Reynolds
Annette Van Gundy